Whenever I start blogging again after a bit of a break, I feel a little awkward about getting started. I haven't been entirely consistent with blogging since I started, so I guess I run into this quite often, ha!  :)  At any rate, here's what we've been up to lately!
Our little family of three has officially moved into our first house!  I would say that we are unpacked in all the ways that really matter.  (Yes, the craft room is still full of boxes, but we will just overlook that for now.)  ;)  I keep scouring Craigslist for a desk and some book shelves for that room so I can get things organized, but I haven't found anything that I really like yet.  I'm also trying to refinish some furniture that we got for Audrey's nursery from Craigslist.  Andrew and I finished her changing table right after we moved in, but I'm still trying to tackle the dresser/bookcase piece.  With all of the back and forth with snow and warm weather lately, I've had a hard time braving our freezing-cold garage to get that project finished!  We got all of the nursery furniture (convertible crib, changing table, and dresser/bookcase) for $180 on Craigslist.  I'll tell you more about that project later, but here's a picture of the finished changing table -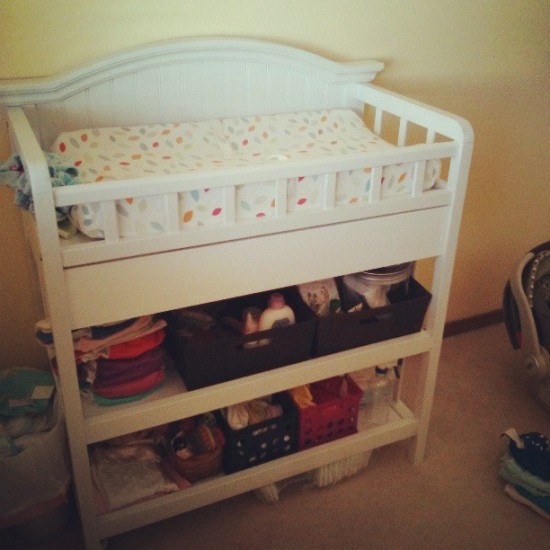 In other news, our baby is 9 months old.  What?!?  Yes, it's true.  In a mere three months, we will celebrate her first birthday.  I am planning to post an update on months 7-9 soon.  Audrey is such a fun, smart, hilarious, passionate, crazy, energetic baby.  She is a true joy and keeps us laughing all the time.  Although some days are challenging, I am really enjoying my time at home with her, and I would not trade it for anything.
Andrew just got a new job a few weeks ago.  The timing was a bit ironic because we had JUST bought this house prior to his job offer, and the new job is about 45 minutes away.  He doesn't mind commuting for now, but it was funny how that worked out.  Andrew is now working for a website called MyWedding.com.  If you or anyone you know is planning a wedding, you should check it out!
As for me, I've been keeping busy with sewing lately.  I've wanted to learn more about sewing for a long time, and recently I've been trying to do at least one project a week.  Since I am not as consistent with blogging as I am with Instagram, here are a few photos of some recent projects -
Most of the projects I've been sewing are from One Yard Wonders.  There are two different books in the series, and sew many fun projects to make!  (Did you see what I did there?)  I think it's a good book for beginners, but I will say that it isn't very photo-heavy like a blog tutorial would be.  The books assume that you have some knowledge of sewing going into it, but they do offer explanations of many techniques at the beginning of each book.  Whenever I'm not sure what the instructions mean, I look things up on YouTube or Google.  It's so handy to have those resources at your fingertips!
What have you been up to?  I'd love to hear!
Also, are you on Instagram?  It's my new favorite app, so check it out!  If you want to follow me, my username is @mrsdmeredith (just like twitter).  I'd love to check out your photos too.
- Diana