I really enjoy fresh fruit of all kinds, and I try to eat as much as I can, especially since I am pregnant.  Sometimes with only Andrew and I in our house, however, we don't finish eating all of our fresh produce before it starts to go bad.  I try not to buy too much at once, but sometimes something slips by me and I realize that the fruit is going, going…gone.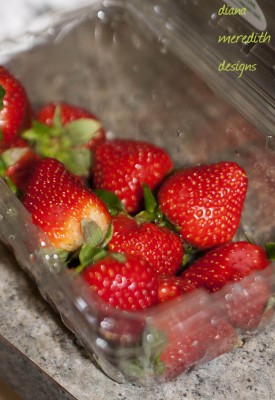 Last week, I was bummed to discover that some of our apples had bad spots on them (really, really bad spots).  I didn't want to throw them away because I HATE wasting food, so I cut off the bad spots and determined that what was left of the apples was salvageable.  We also had some strawberries that were looking a little sad, so I decided to make something delicious.Enter – the juicer.We got a juicer shortly after we got married with some of our gift card money.  It quickly became one of my favorite kitchen appliances (though I really don't care for cleaning it) because fresh juice is just SO much better than bottled.  I don't know how to describe fresh juice other than to say that it's like drinking a piece of fruit…so flavorful, delicious, and refreshing!  It also requires no extra sugar, flavors, or additives, and I like knowing that I'm drinking something that really is good for me.I threw the fruit in the juicer, poured the juice in some popsicle molds, and a few hours later had probably the BEST homemade popsicles I've ever had.  I think the secret is the ripeness of the fruit because I did not add any sweetener to these and they were fantastic.
To make these popsicles, you need:
3 ripe organic apples
A dozen or so organic strawberries
Juicer
Bowl to catch juice
Popsicle mold (I got mine at either Target or Wal-Mart…not sure which but they should be out now that summer is coming)
Instructions:
Wash all fruit.
Cut apples so that they will fit in your juicer (with the type of juicer we have, that's the only prep I have to do.  Some juicers may have you core the apples as well, so make sure to read your instruction manual!)
Place bowl under juicer spout.
One by one, put the apple pieces into the juicer.  Then, add the strawberries.
Pour the juice into the popsicle molds.
Cut a strawberry or two into small pieces and put a few pieces into each mold (this was a really yummy last minute addition that I thought of).
Put the handles into the molds and place the popsicle tray in the freezer.
In a few hours, have a delicious, homemade popsicle with no sugar added.  :)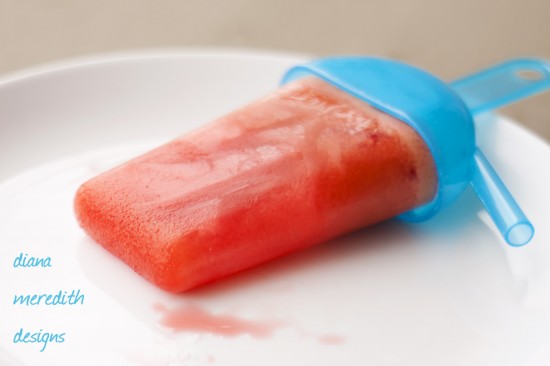 (Yes, I got the popsicle molds with the straw like I'm a little kid!)
- Diana
To see where I'll link up this week, click on my parties page.