I'm very excited to be doing something a little different on my blog today.  For the first time, I am co-hosting a link party with one of my new blogging friends, Kristina.  If you aren't familiar with link parties, the idea is that you write a post on your blog of something you would like to share, then you add it to a collection of links where other people can see it.  Then, you visit other people's blogs to see what their ideas are, and you leave them a comment letting them know you came by.  If you really like the blog, you can become a follower so that you can keep up with them more easily.
The link party that I am co-hosting has a theme – simple steps to healthy living.  Kristina is passionate about making healthy choices for her and her family, and she wants to inspire others to do the same!  You don't necessarily have to change everything in your life at once to start making healthier choices, but little by little, you can get there.  If you have any simple tips, recipes, or healthy ideas to share, please link them below!
One of the ways that I strive to be healthy is to make things from scratch.  Instead of buying bread, cereal, sauces, and snacks, I make those foods so that I know exactly what is going in them.  I avoid processed foods as much as possible, which in turn cuts out unnecessary sugar, fat, and salt.  I also don't use boxed mixes (and let me tell you, I have a killer brownie recipe that will never have you buying Betty Crocker again…but that's for another day).  Today, I'm sharing my favorite granola recipe, made in a skillet rather than in the oven.  It takes less time than most granola recipes, and it's absolutely delicious and healthy!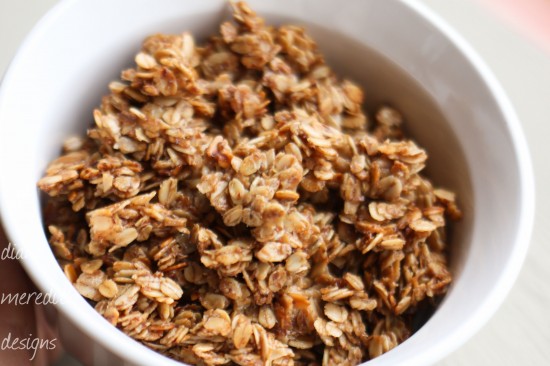 Recipe: Vanilla Cinnamon Skillet Granola
Summary: A tasty granola made in a skillet
Cooking time: 20-30 minutes
Source: Adapted from The Chou Life 
Ingredients
2 T. coconut oil*
4 c. old-fashioned oats
1/2 c. unsalted butter
1-2 tsp. vanilla extract (I like vanilla flavor, so i usually do 2 tsp.)
1/4 c. honey
1/4 c. brown sugar
1/8 tsp. salt
1 tsp. cinnamon
2 T. flaxseed meal (optional, but adds omega 3s and fiber)
2 T. wheat germ (optional, but adds folic acid)
* A note about coconut oil – Coconut oil has many health benefits, and it really doesn't add much flavor to dishes.  If you are not a fan of coconut, I do not think you will be able to tell it's there, but you could use another kind of oil if you prefer.
Instructions
Heat the coconut oil in a large skillet over medium heat.  Add oats; cook and stir until lightly browned, about 5-7 minutes. Push the oats to the side of the pan.
Reduce heat slightly; melt butter in the skillet next to the oats.  Stir the honey, brown sugar, vanilla, and salt into the melted butter. Stir constantly until bubbly.
Mix the oats into the butter mixture. Add the cinnamon and cook and stir another 5 minutes or so. Mix in flaxseed meal and wheat germ, if desired.
Spread onto a cookie sheet and allow to cool.
When granola has cooled, you can add whatever you want to it, such as chocolate chips, dried fruit, nuts, etc. I prefer to mix things in when I'm ready to eat it because my tastes tend to change from day to day.
Transfer the granola to an airtight container. I find that granola keeps well in the fridge, but you can store it at room temperature for about a week.
Welcome to my first ever linky party! I'm so excited you're here and I cannot wait to see what you have to share with us.
If you're a regular on my blog, you know that I'm passionate about making things easy, especially if I'm really committed to it. I rarely follow a recipe if it has more than 5-6 steps and I'll rarely make something a habit if it seems to hard or overwhelming!
One of my goals when I first started blogging was to show that it's possible to overhaul your lifestyle, one step at a time so that it doesn't seem too overwhelming. I hope that I accomplish this when I do my
simple steps to healthy living! 
I'm so excited to share this journey with you! And have you share what you've learned as well! And I'm thrilled to have some wonderful ladies with me today co-hosting!
Of course, there must be a few rules…but I'll try to keep them simple

1. Follow me and all my co-hostesses
2. You can post about anything you want, as long as it's a simple step towards a healthier lifestyle including tips for "green" living. I will ask that you avoid the following:
no artificial ingredients
3. Share the love. Check out at least 3-4 other posts and introduce yourselves. The thing I love most about linky parties is that you get to meet so many amazing people! 
And thank you so much for participating!! I'm thrilled that you're here and sharing with the rest of us!